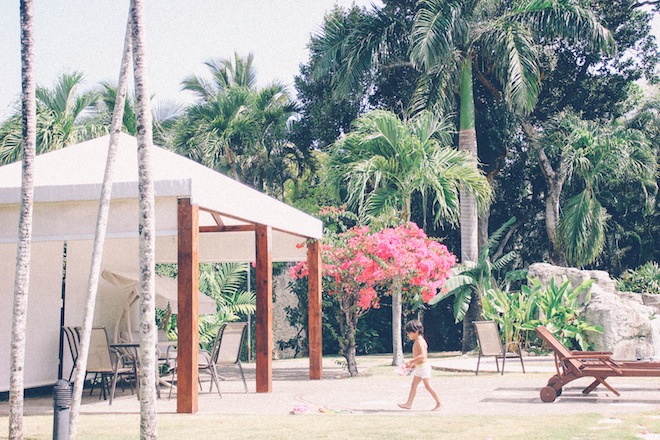 Part of the excitement of our family vacation was the anticipation of the beach portion of the trip and getting to spend a few nights at Sea Horse Ranch through Kid & Coe, located in Cabarete with easy access to Sosua beach (Ivan's favorite).
As some of you may know, I'm the community manager for Kid & Coe – an amazing site and service catering to family travel with some of the most beautiful properties around the world. To say I was stoked to finally get to experience booking and staying in a Kid & Coe property first hand would be an understatement!
What else can I say except our stay was a dream come true. Our villa was insanely gorgeous yet nothing felt so "precious" that Lucas couldn't run around and explore and enjoy himself (even with sandy feet and a salty bottom). A few of the many highlights of our villa:
+ The pool! Both ends of the pool were extremely shallow and acted as a sort of kiddie pool which is perfect for the little ones. Lucas spent most of his time splashing and hanging out here and feeling like a big boy since he could stand on his own.
+ This was a tough one to initially get used to but each villa has a maid that is there for just about anything you could need from 8:30am-4pm. Each morning she had coffee ready for us, prepared breakfast, and did our laundry several times. I can't even begin to tell you how nice it was to arrive home with no laundry to do.
+ Toysssss. There were two enormous closets filled with every kind of toy imaginable – doll houses, carriages, play-doh, chalk, pool toys, legos, pirate ships..I mean! Lucas's favorite were the puzzles which he enjoyed every night before bed time.
+ Our bedroom. The master was almost the size of our NYC apartment (not even kidding..) and included a gorgeous on-suite bathroom with a tub and double shower. The first night we took a family bath and it was such a treat to fit my big pregnant belly in the tub with my boys. Upon arrival, they had a bed made up for Lucas but he wound up sleeping with us in the king size bed. I can't blame the kid for wanting to sleep in that awesome bed!
To top it off, the entire Sea Horse Ranch staff were amazingly sweet, accommodating, and there for anything we needed including arranging taxis when we needed them. It felt so good to be taken care of. Let's be real, going on vacation with the kiddos is amazing but not the easiest task. Not having to be cramped into a hotel room and having every amenity under the sun including toys, a high chair, linens, and everything Lucas needed without having to pack extra bags was priceless for our family. You can see of all the Sea Horse villas available to book here via Kid & Coe.
I'll be adding another post later this week with more about the extra amenities in Sea Horse as well as activities we enjoyed in Cabarete and Sosua. Thank you to both Sea Horse Ranch and Kid & Coe for making this stay possible!