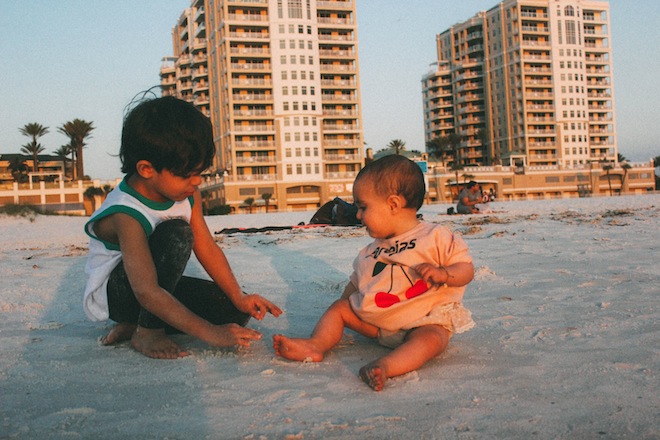 Last week the kids and I headed to Clearwater for Lucas's spring break. My mama came with us and honestly it was such a relief knowing I was going to have an (amazing) extra pair of hands. Lucas went ahead with my mom and I flew out the next next day with Lillie. Alone. For the first time. I'll say this – Lucas has been a champ flyer from day one. He snoozes most of the flight and has always been perfectly content either on my lap or now that he is older, playing games and watching movies. He has never cried on a flight. NOT ONCE. No way I could be that lucky twice. Right? Yea, NO. Lillie cried for a solid 20-25 minutes on our packed flight and I was that mom, awckawardly smiling at blank stares (and some pitty stares) and frantically hushing her baby. 25 minutes is a loooooong time when your trapped on an aircraft like sardines. I walked her up and down the aisle and nursed her until she finally passed out from exhaustion. At that point I was sweating, equally as exhausted, and to be honest all I wanted to do was sit down, put in my ear buds, and listen to some Drake. Can a mama live? I really wish I could say I was calmer and gave zero f's what everyone else was thinking but when you're in the moment it's really a bit nerve wrecking and anxiety inducing. Anyways, an hour later and we were in sunny Florida!
The sunsets on Clearwater beach are just unreal. 
My new favorite head wrap for Sol. And that little outfit? I'm in baby bliss over here. 
These are a few of my favorite snaps from the trip. We really had such an amazing time and it was such a treat to be with Lucas for an entire week and get some much needed one on one time with him. If you haven't been, Clearwater is such a beautiful, beautiful place to visit. I have been coming here since I was Lillie's age on family vacations to visit my aunties. It's a second home for me and such a comforting, safe space. It's familiar, calming, and just what I need a couple times a year for a pick me up and when I need to get out of NYC. Lucas has come to love it as well and I can't wait to continue our yearly tradition with both kiddos.