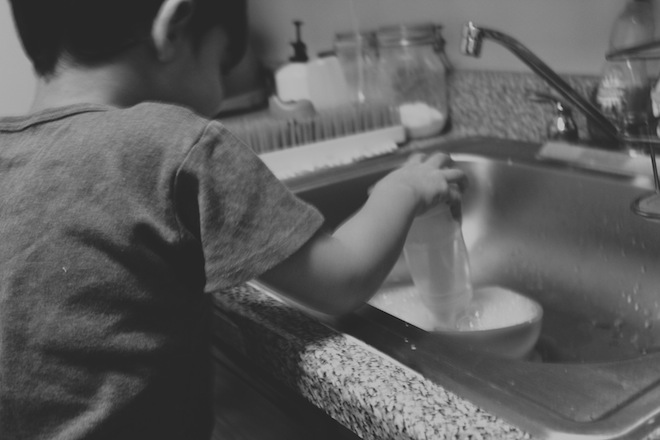 Bottles. Sippy cups. All those dang parts that come with them. Three years of mama hood later and I still haven't mastered getting them perfectly clean without a boil (which become less and less frequent as time goes by…). Until now. I had the opportunity to collaborate with Boon, a company I've used since Lucas was a baby, and jumped at the chance. 
Boon graciously sent me their new Suds Bottle Washer and my whole dish washing game has changed. You basically fill up this nifty bowl with warm water, add a dash of soap, and get to cleaning. In less than a minute Lucas's bottle was sparkling. I can attest to how amazing this is because Lucas only drinks milk from his bottle for nap and bed time. ONE BOTTLE. He refuses to drink his milk from anything other than his well loved – and worn in – pink bottle. You can imagine how cruddy this thing can get. Again, only when I boil it have I ever seen it this shiny and clean. Have I raved enough yet? Seriously I love this thing.  It will most definitely be a life saver once the bebe is here and we are cleaning several bottles a day. Did I mention it also cleans Ninja Turtles? Lucas gives it a thumbs up as well. Not convinced? Watch this:
Another must have for me is their Patch Drying Rack. I have a small NYC kitchen and the footprint on this thing is incredibly small yet big enough to hold several sippy cups, bottles, and accessories (come August it will hold pacis, etc). Plus it's pretty to look at. How cute are these?!
A big thank you to Boon for making this mamas life just a bit easier.