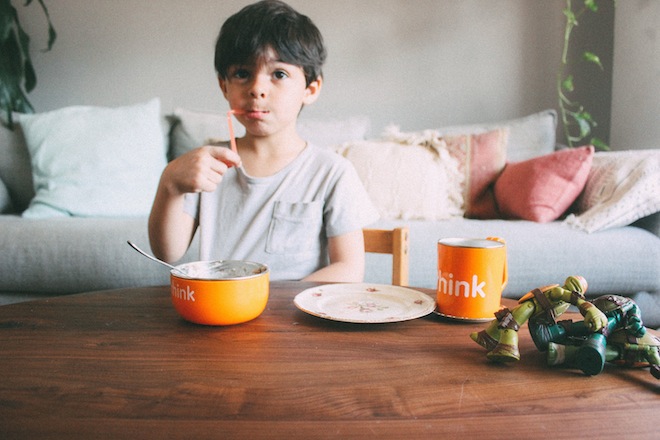 I remember Lucas transitioning from a plump baby who ate everything we gave him into a picky toddler who could go hours with zero sustenance and would remove everything off his plate. Meal time became a chore that dreaded. I mean, who wants to try and reason with a ragy two year old that only wants to eat chicken nuggets, corn, carrots, and cheese sticks. It got to the point that I was in constant communication with his pediatrician. I just couldn't understand why my child refused to eat. After talking with other mamas I felt reassured that this was just a normal stage in toddlerhood.
That being said, I had to find ways to be creative and get him to try new foods that I knew would be both tasty and nutritious. A go-to of mine has always been Plum Organics. They are an Organic baby, toddler, and kids food company that use non-GMO, delicious ingredients in all of their products. You can read a previous Plum post here. Now that Lucas is in pre-k, our mornings are always rushed and we need quick, healthy options for breakfast. I introduced him to their Mighty Mealtime Organic Oatmeal a few weeks back and it has been a hit. It's made with 8 minerals and vitamins along with 3g each of protein and fiber. It comes in two flavors – banana strawberry and apple cinnamon – and both are so tasty (I was the official taste tester for my kid..) I love that it's made with oats, grains, and real fruit bits and Lucas thinks it's delicious AND I'm relieved that he's eating such a healthy breakfast before a long day at school. Wins!
Here are some of the various ways we serve it up to him add some variety:
+ sliced strawberries or a handful of blueberries on top
+ a scoop of nut butter mixed in along with a side of whole wheat toast
+ a whole apple sliced up on the side or on top
I'm so thrilled that Plum Organics is offering my readers a chance to win a large assortment of the Mighty line! Hop on over to Instagram for details later this week and learn how to enter. Happy eating little ones!